Eamon Drea
Eamon Drea is a Senior Associate working with Athrú Consultancy Limited having joined in 2015.  He graduated from UCD with a BA in English and Philosophy (1975), MA in Modern English and American Literature (1976) and a Higher Diploma in Education (1977). He studied Law at the Kings Inns and was called to the Bar in 1990. 
Eamon worked in the Irish civil service from 1980 to 1990, serving in the Department of the Environment and in the Department of Finance. While in Environment, he worked on a range of local government and electoral legislation, and served as Private Secretary to the Secretary of the Department. Within the Department of Finance, he worked in the area of management development and organisation development across a range of Government Departments and Offices. 
Eamon joined Hay – MSL Management Consultants in 1990 as a Consultant and became Managing Director of their Irish business in 1995. He has experience of a broad range of human resources assignments within the public and private sectors. His clients included major organisations in the public and private sectors including Bank of Ireland, Dublin City Council, Independent News and Media, Vodafone, ESB, Dublin Airport Authority. With Hay, he consulted widely in Ireland, UK, USA and Africa in the areas of organisation change, leadership development and reward and worked as an executive coach at senior levels within client organisations. He conducted a range of executive recruitment assignments, including at senior level within the State sector, while at Hay MSL. 
Eamon was Vice-President for Staff in UCD from 2006 to 2015, leading a Human Resources function for some 3,000 academic, professional, administrative and technical staff. The function provided a range of in-house consulting , organisation development and leadership services to support the university during a period of major change. He represented UCD on the Human Resources Steering Group of the Irish Universities Association and in their membership of the international Universitas 21 Group of leading international universities. He was closely involved in the recruitment process for the appointment of the new President of UCD in 2013.
---
Gerry McAleavey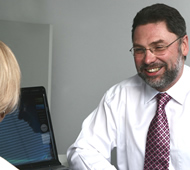 Gerry McAleavey is a Senior Consultant and Partner in Athrú Consultancy Limited having joined the Company in 2007 following a career as a senior manager with ESB.
A Chemical Engineer with broad line management experience in Power Stations and a Business Services environment, Gerry spent the last 14 years of his career in key operational and strategic Human Resource management roles both at Business Unit and Corporate level.
He has had responsibility for the delivery of key elements of Group wide change processes during two major change programmes and ultimately as a project leadership role in relation to the transfer of staff from ESB to the newly formed EirGrid (National Grid) Company. His final role in ESB was as Manager HR Strategy & Performance for ESB Group focusing on HR Strategy formulation, Organisation Design, Performance systems, Governance and Compliance processes and HR Policy formulation
His most recent assignments have been in the area of organisation strategy, development and growth, change management, HR Strategy development and functional effectiveness, career and performance coaching.
He holds an MSc. in Management from Trinity College, Dublin and a BSc. (Chem. Eng) from QUB.