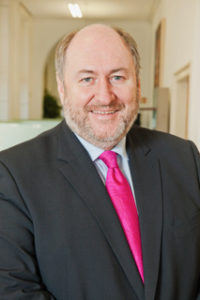 Seán has a wealth of experience in all aspects of Human Resource Management. He was previously Group HR Director, ESB, carried out a number of senior international HR manager roles for Solar Turbines Europe SA and ESI (subsidiaries of Caterpillar Inc.) and worked in a wide range of ER/IR roles with General Electric US and CIE Group where he started his career and has run Athru Consultancy as Managing Director since 2003.
He has extensive experience in the design, implementation and embedding of Organisation and HR Strategy; Change Management; Leadership and People Development interventions; Strategic IR support; Reward strategy and Performance Management programmes in both line and HR roles in ESB; Solar Turbines Europe and General Electric and as a HR Consultant with a range of public and private sector clients such as University College Dublin, NUI Galway, University of Dublin, Trinity College, Superquinn Ltd, Ordnance Survey Ireland, Intesa Sanpaolo Bank, Prudential Europe, Pfizer, Henkel Loctite, St Vincent's Hospital, Tara Mines, Lufthanza Airmotive, Dublin Port Company, Dublin Airport Authority, the Higher Education Authority and An Garda Siochana.
He also coaches business leaders and managers on the effective implementation of a range of best practice human resource management interventions as well as supporting individuals with career change and outplacement support.
Seán is Prgramme Director for a Diploma in Organisational Change and Transformation at UCD Smurfit Graduate School Executive Education department where he also lectures on change management and he is also a former National Chairman of the Chartered Institute of Personnel and Development in Ireland.